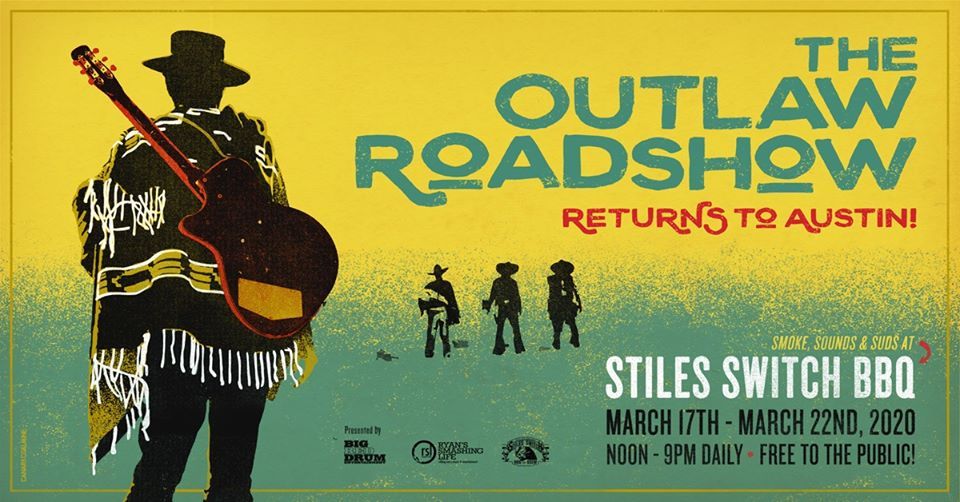 The Outlaw Roadshow returns To Austin 3/21
March 21, 2020 5pm
David will perform as part of The Outlaw Roadshow, Saturday March 21st at 5pm!!! There will be dozens of great performers from around the country throughout the 6 day "Roadshow"; details below
Drum Roll, please! Excited to share that The Outlaw Roadshowreturns to Austin this March for Six Days and Nights of Hot, Free Shows presented by Big Red Drum Entertainment and Ryan's Smashing Life: March 17-22nd at the world famous Stiles Switch BBQ & Brew who for years have entertained the city with Smoke, Sounds & Suds. Very Excited to be back!
http://www.theoutlawroadshow.com/
Get ready for the most amazing assembly of free music the city has to offer this Spring! Great Food and Beer and lots of (ahem) surprises!
Artists: there's still some time left to submit but you must be quick! If you have already mailed us, acceptance notifications begin next week!
http://www.theoutlawroadshow.com/
Art by the talented Aaron Spransy at Canary Coalmine. You need work, he's your guy!